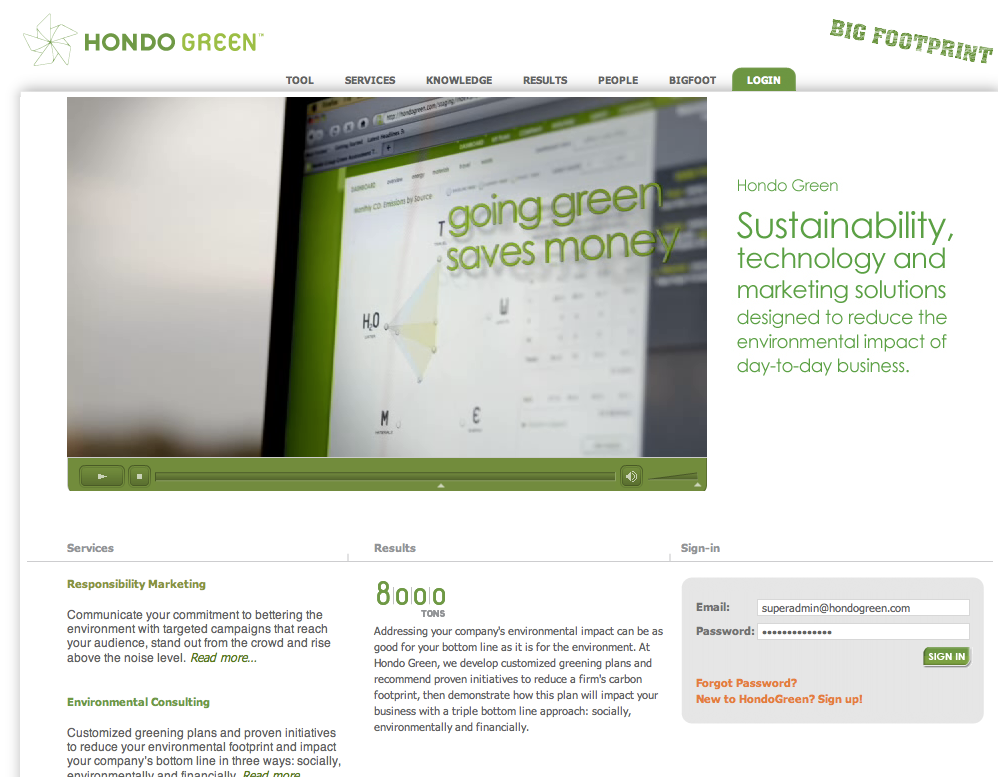 In 2007 we decided to "go green!" So, we hired a consultant, got our carbon assessment, and found out where we stood with our environmental impact. So, what next? We had two offices and keeping track of this was going to be a pain. Then I saw the spreadsheet that the consultant, Shena Turlington, used and it hit me - we could put this on the web! So, I worked with our small group of developers and build our first alpha build of the software less than 3 months later. We were in beta by that summer. Release came and refinements continued. The software has been sold to Green Village and is now offered to everyone on Salesforce.com. 

iPhone app and commute buddy finder were designed, spec'ed but not built. 

Boiler plate:
Addressing your company's environmental impact can be as good for your bottom line as it is for the environment. At Hondo Green, we develop customized greening plans and recommend proven initiatives to reduce a firm's carbon footprint, then demonstrate how this plan will impact your business with a triple bottom line approach: socially, environmentally and financially.
Launch Campaign: The Hondo Green BIG FOOT CHALLENGE
The Hondo Group's good friend bigfoot arrived semi-unannounced at local agencies to challenge them to reduce their environmental footprint. 

2010  KXAN: Hondo Green in the news - Interview
2010  Panel Lecture Austin Advertising Federation